When Styx's "Mr. Roboto" debuted in the early '80s, the song hinted at a future filled with humanoid robotics.
Fast forward three decades and the tune rings prophetic. At the Henn-na Hotel in Japan, robots operate the check-in desk without human assistance. At the Los Angeles Residence Inn, a robot bellhop named Wally delivers bottled water, towels, and other amenities to guests' doors. Robot airport check-in assistants weigh luggage and carry it for travelers. Health care facilities use robots to assist with the transfer of patients from their beds. Even some Lowe's Home Improvement stores feature the LoweBot, which helps consumers locate products while also managing shelf inventory for the retail giant.
With technology's increasing role in daily lives, W. P. Carey Department of Marketing Chair and PetSmart Chair in Service Leadership Amy Ostrom wanted to understand how service robots might positively influence customers' frontline experiences in the future.
"These technologies are coming — or in some cases already are here," says Ostrom. Business Insider states that the global market for robots functioning in consumer and office applications is estimated to grow exponentially to $1.5 billion in American dollars by 2019. "It, therefore, continues to be important for companies to think about what robotics mean to the customer," Ostrom says.
In a conceptual paper published in the Journal of Service Research, Ostrom and co-authors Jenny van Doorn, Martin Mende, Stephanie Noble, John Hulland, Dhruv Grewal, and Andrew Petersen analyzed existing research about technologies that employ social robotics and other interactive interfaces. The team was interested in understanding service outcomes — satisfaction, loyalty, repatronage, engagement, well-being — when customers perceive robots as having a high automated social presence, i.e. when they appear more social and human in nature.
Designing the humanoid robot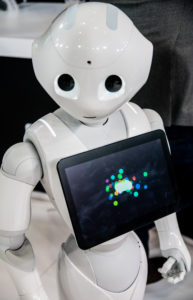 Applying social cognition and psychological ownership theories, the researchers predict that robots with perceived warmth and competence, as well as perceived manipulability, attractiveness, and receptiveness, will positively drive service outcomes. A robot designed with more humanlike features and mannerisms — and therefore perceived to be more like a person — would be viewed as having more warmth and competence.
The most efficient humanoid robots also would likely offer some degree of customization, allowing the customer to feel a sense of control. Consider a robot in the home, programmable for specific tasks in specific rooms, or a personal butler robot at a hotel that could speak in different voices, selectable by the user.
Another key to positive service outcomes is attractiveness — in the form of an aesthetically and socially appealing robot, or one with novel and creative features. And, finally, for customers to be receptive to humanoid robots, the technology must be glitch-free, responsive, and helpful.
Taking human nature into account
As companies contemplate using humanoid robots in their frontline service models, they must consider basic tenets of consumer behavior. Take, for instance, a person's relational orientation.
In communal relationships, customers expect service providers to be kind and responsive but not primarily profit-motivated (health care services). A robot's warmth, then, would be necessary for those with mutual mindsets. Conversely, exchange relationships imply a quid pro quo in which consumers expect to repay for received benefits (banks) promptly. Robotic competence would be vital for those with exchange mindsets.
"Customers have tendencies toward one or the other mindset when they approach service relationships," says Ostrom, "a critical distinction when considering how a robot will interact socially."
Humans also have a tendency to personify objects. Research suggests that anthropomorphized products elicit greater and more positive emotional response in consumers. The more consumers anthropomorphize robots, the warmer and more competent those humanlike robots will be perceived — leading to further positive service outcomes.
A final consideration: Individuals differ in their technological readiness. Some are far more willing to embrace, adopt, and use new technologies than others.
So what is a company to do when consumers vary so widely in their orientations, habits, and receptiveness? "Our study highlights questions companies should think about," says Ostrom. "We hope that our propositions will be a catalyst for interdisciplinary collaboration among service science, engineering, computer science, and businesses experimenting with service robots."
A robotics-filled future
Ostrom believes that today's daily technological interactions are paving the way for greater acceptance of humanoid robots. "Many already have this entity they're talking to every day in their house — Alexa or Cortana or Siri — and asking questions. It is woven into their daily experience already. Taking it from there to a mobile robot you're talking to — the leap doesn't seem so far."
So, while we don't need to domo arigato (thank you in Japanese), Mr. Roboto — because he or she is, after all, a robot who needs no thanks, we may feel compelled to do so, especially if the robot is social and human enough with which to connect.
See what else is coming in the future in the autumn 2017
W. P. Carey magazine where this article originally posted.