Lamneck believes every business is a technology business. He is fascinated with the way we build meaningful connections with technology to transform the way organizations do business. This interest and vision have driven him from the West Point Military Academy to Insight, where he leads the company as chief executive officer.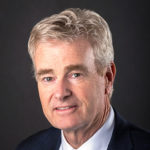 After five years in the U.S. Army, Lamneck began his civilian career as an IBM engineer. But he found that sales and marketing better suited his competitive spirit and the servant leadership principles he learned while in uniform.
Lamneck honed his technical knowledge and leadership skills rising through the ranks at Arrow Electronics. As president of Arrow's Industrial Computer Products business, he was drawn to the rapid pace of innovation in the emerging IT industry. He moved to Tech Data Corp., where he directed its growth and operations across the United States, Canada, and Latin America.
In 2010, Lamneck joined Insight and spends his days helping businesses run smarter. His approachable, hands-on leadership style can be seen in Insight's corridors every day, as he motivates teammates and aligns their efforts to transform businesses with Intelligent Technology Solutions™.
Follow along with Lamneck's slides as you listen to his keynote presentation: