W. P. Carey School of Business, Where Business is Personal
ASU's W. P. Carey School of Business is committed to creating an experience for our students that's uniquely their own by building a tight-knit community through small classes, team-based learning, and individualized attention every step of the way.  As one of the largest business schools in the country, we recognize that working towards this goal every day is a big commitment for our employees.  Ownership of this commitment has to be demonstrated not only by what our employees do as they fulfill their jobs, but also by their understanding of the service needs attached to this commitment. It's about caring and having this 'humane attribute' that naturally flows through the bloodstream (metaphorically speaking).  So one of our overarching school goals is to 'grow' student-centric behavior and create a community of caring that is reflected in service performance.
Where do we start? How do we make a service focus to be a school-wide priority and translate it into action?
Together with the Center for Services Leadership, the HR Development team at the W. P. Carey School organized a workshop for its leadership— the faculty and staff who have a direct influence on the behaviors of employees who provide our services. The workshop was led by Dr. Amy Ostrom, PetSmart Chair in Service Leadership and resident Service Blueprinting expert.  She, first, introduced our front line leaders to Service Blueprinting. After that, 3 teams worked through a service focused blueprinting process with a goal to evaluate and enhance the orientation and onboarding experience for new employees – one of the key internal services that impacts the school.
Here's what we experienced and achieved as we worked through the service blueprinting process:
We defined the current orientation and onboarding process and then identified ways to enhance a new employee's experience.
We built a common understanding of the internal services which cross over into different work groups across the school.
We recognized the impact of individual roles and activities on the level of service.
As a result of the insights that surfaced, our team implemented the following changes:
Created a designated area on the school website that offers online resources to support new employees.
Developed templates for consistent communication, including checklists for service handoffs.
Created a sense of ownership in coordinating services to enhance a new employee's experience e.g. breaking down silos instead of creating them.
Established an actionable plan with specific time and resource commitments, communicating the school's dedication to providing a meaningful and well-designed service.
Where do we go from here?
The service blueprinting exercise revealed the differences between orientation and onboarding in terms of timing and priorities for each phase. We defined orientation as the initial "set up" phase during the first month, which later transitions into an onboarding process. The onboarding process continues throughout the first year accompanied by consistent interactions via interviews and surveys. From this blueprinting experience, we divided our services into two distinct, yet integrated areas – orientation and onboarding – and both are a reflection of how we care for our employees.
As a school committed to building a community that provides the services our students need, we have to continuously demonstrate how we care about our employees. We're incorporating this caring and thoughtful approach in how we engage our employees starting from the beginning of employment and continuing through their time with the school. We do that by systematically checking the pulse of our employees' 'service health' and by continuously looking for ways we can perform employee services demonstrating that we care – because we do.
__________________________________________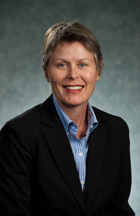 Beth Sepnieski has been the Human Resources Director for the W. P. Carey School of Business since April 2004.  She earned her Bachelor of Science degree in Human Resources and a Masters in Education with an emphasis in Counseling and Human Relations. Beth also has a senior professional human resources (SPHR) certification through the Society for Human Resources (SHRM) and has been trained and certified in the interpretation of the Predictive Index; a self-assessment tool used within the School to help improve communication, team interaction, and decision making at all levels.
Over her 30 years in Human Resources, Beth has conducted numerous workshops on a wide range of topics.  Her 'hands on' consultation and guidance has provided a variety of her customers with sound tools to cut through to problem solving possibilities in order to promote a more productive work environment.