"Attending the ASU Strategic Services Institute was an outstanding way for our team to spend some valuable time immersed among talented individuals and CSL experts. Chaos in today's service industry driven by changing expectations was reinforced. The surprise for me came in the thoughtful and execution-oriented way to put the customer 'lens' front and center with tools and approaches. Stand-out was the key role service leadership plays to ignite the internal culture for change and with a supporting cast of smart and capable folks to enable the journey."
– Lorin Brown, Director Account Development – American Express, and SSI March 2018 Alumnus
Strategic Service Institute: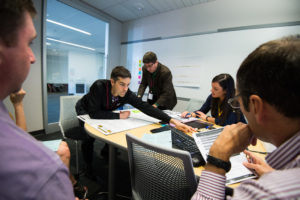 Form a Crack Team to Solve Your Service Performance Issues
You send a high flier to a traditional executive education workshop and she returns with a head full of concepts and some thoughts about what it means for the company. But what if you sent a team? And what if you sent them off to wrestle with one of your most intractable service performance problems?
The Strategic Service Institute, a unique on-campus foundational and strategic services educational program that is offered each March and September by the Center for Services Leadership at the W. P. Carey School of Business, arms teams with knowledge and tools they can use to generate outstanding service performance. Then, teams apply what they've learned to a current company challenge. Independent Consultant and SSI Executive Coach Gwen Ortmeyer, Ph.D. has seen the results. "Companies that send a team to the Institute work on a tough problem can get a super-charged benefit, because in addition to the training individuals receive, they also get a business result."
Two modules comprise the Strategic Service Institute. In the first, participants learn about trends in service and the tools such as blueprinting they can use to develop or improve organizational service excellence. The focus is on implementation. The second, more intensive module explores current service business topics relevant to business model development, pricing, technology, customer engagement and change management. In this session, the focus is on vision expansion and growth opportunities.
What makes the institute distinct is that companies may tailor the experience by sending teams with a project or problem to work on, using what they learn in the session. Companies meet with an executive coach in advance of the event to discuss topics the team might address during the sessions. Then teams work with that coach while on site.
Ortmeyer has been helping companies identify business problems suitable for the program. Then they discuss which people to send. Companies often find it difficult to send entire teams, Ortmeyer says, but real benefits also accrue when team members are selected from various functional areas of the company. "For some member companies, the institute creates a new network of colleagues that wouldn't otherwise exist." And at the end of the institute, those people will have examined a significant business issue in the context of what they have learned about trends in service and the best tools to address them.
"These teams can do some really careful thinking about a problem, and maybe develop an action plan and next steps," she said. "Companies like this action learning approach because it greatly increases the possibility that what their people have learned will be applied."
Faculty Director Douglas Olsen says he has seen remarkable growth in individual attendees, in their level of knowledge and ability to apply it to their work context. "In the teams that attend, it is particularly powerful to see the level of interactivity and excitement as they jointly solve an issue that has been a struggle for them to break through," he said. "The focused environment that SSI provides enables them to put multiple perspectives together."
Wolfgang Ulaga, professor and former co-executive director of the Center for Services Leadership, explains that the institute is far more than a place to gain knowledge. "It is a forum where you and your team apply the new knowledge you have acquired to create strategies and solutions for specific challenges you face in your business."
Your team can experience our Strategic Service Institute firsthand, visit: wpcarey.asu/edu/institute for more information and to register.