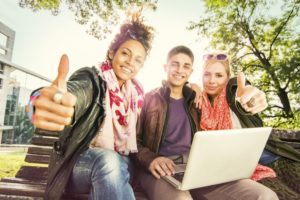 The Center for Services Leadership is helping develop a customer service curriculum aimed at youth between the ages of 16 and 24 who are not in school and not working. This is the first time that the Center is involved in delivering customer service education to those who will man the front line.
The music comes up — guitar-strumming and whistling — and a short video begins to play on your phone. A thought bubble hovers over an animated figure hunched in front of a computer screen: "It looks like you deleted your entire hard drive, but sure, I'll take responsibility for that." Two more customer service nightmares play out: a distressed-looking young employee with a customer in a car lot; a youthful server delivering a scalding plate to a diner. The closing slide rolls: "Being a customer service professional isn't always easy, but this module will show you the key elements to delivering excellent customer service … making you an attractive catch for potential employers."
That last phrase is a powerful punch line for the audience of the video: the 4.9 million between the ages of 16 and 24 who are not in school and not working. The video is the first of seven in a module called Fundamentals of Customer Service. The module is a component of Edge, a free mobile and online training program designed to deliver workplace and life skills training this group of young people.
Edge is one of the programs delivered through Arizona State University's partnership with Starbucks. The university already partners with the company on the Starbucks College Achievement Plan, which helps Starbucks employees complete a college education through ASU Online, and Pathway to Admission, a program that assists Starbucks employees prepare to apply for admission. Edge, which is funded by the Schultz Family Foundation, takes another step back, reaching outside of the Starbucks organization to help struggling young adults land their first job.
The personal and skills training available through Edge can transform the lives of the young people who participate, but companies also benefit. Opportunity Youth, as they are called, represent a solution to the shortfall of about 4 million qualified workers to fill entry level jobs today and into the future. Their improved prospects contribute to a better economy and stronger nation, too.
Delivering business skills to a new audience
The Center for Services Leadership, the W. P. Carey School's Department of Management and Career Services Center, and EdPlus, the technology and curriculum development team that supports ASU Online, are collaborating to create Edge.
Edge is designed to be flexible, adaptable, easy to use, and most importantly – appealing to the audience. The short videos, accessible from a phone or computer, are an ideal application for reaching this age group, said Brian Nethero, the EdPlus project manager for the Starbucks initiatives. Training is delivered through modules that consist of five to 10 videos and game-like exercises that reinforce the concepts. Topic areas include customer service basics, advanced customer service, self-leadership, leading others, personal finance and employment planning. The curriculum targets skills and knowledge applicable in any industry, as well as key skills needed to achieve personal and professional success.
Douglas Olsen, associate professor of marketing and faculty director of the Center's Strategic Service Institute, worked with Nethero to develop the customer service curriculum that is the basis of the videos. The pair started with a program established by Starbucks for internal workers and made it applicable to a broader range of service industries and more relevant to Opportunity Youth.
Olsen explained that users will learn the basics of customer service and explore some of the advanced issues in providing services. The same concepts are covered in college curriculum, Olsen said, and "these are topics we might even teach to executives." This is the first time, however, that the Center is involved in delivering customer service education to those who will be on the front line.
In addition, the Edge curriculum teaches leadership and career skills that will help youth feel they have power to change their lives, Olsen said. For example, the goal setting module demonstrates to participants that they don't have to limit themselves to simply paying the bills, that their horizons can be wider. W. P. Carey Career Services contributed content related to job searches, cover letters and interviewing.
"Once Edge participants get a job in a retail or customer service environment, things could snowball," commented Lisa C. Young, executive director of the Starbucks Initiative at Arizona State University. Edge provides a lift, and "if they go to work at Starbucks, they might be eligible for the Starbucks College Achievement Plan."
A source for companies
When they see Edge on a job application, employers will know that the applicant has completed high quality, university-based workforce training and is ready to step into a job, Nethero said. In addition, he hopes that companies view Edge as a training resource for their own employees. "Edge would be very valuable incorporated into your onboarding process," he said.
For more information, visit learning.getyouredge.org/ about or contact the Edge team at support@edge.asu.edu