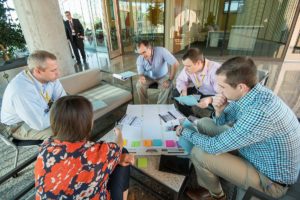 Is the customer experience at your company frictionless?
Douglas Olsen, faculty director of the Strategic Service Institute, describes the omni-channel customer experience this way.
A customer starts by searching online. Then she goes to the physical store where she looks at the product, but also continues her on her phone for other choices, merchants and pricing. She might talk to a salesperson, then go home and search again before she finally makes the buy and returns to the store for curbside pickup.
One of the challenges for companies is to smooth out of the customer's journey across platforms, between the digital and the concrete. After the customer engages for the first time, will the company recognize her as she navigates from laptop to phone to bricks and mortar and back again? Or will she hit friction?
"The issue facing companies is that so much of service delivery is now occurring in multiple channels," Olsen says, "and while people expect personalized content and 'human like' interaction, the nature of the desired customer-company interface is evolving in this omni-channel world."
This is the kind of real time challenge that participants will pull apart at the Strategic Service Institute, hosted September 16-20 by the Center for Services Leadership on campus at Arizona State University. But the institute looks further ahead than the present.
"Managers have to not only figure out how to provide existing service in an exceptional way, but they also must think one, two or three steps down the road," Olsen says. "They need to be able to articulate their vision to people in their team — to mobilize and motivate. They need to be prepared to deal with some of the hurdles that will face them during the change process and to be able to communicate the value offer to customers and others in their organization in clear and compelling ways."
Ideally, companies will send teams to the institute, Olsen explains, bringing with them a current project or challenge.
In the first module, participants take a deep look at latest tactics for implementing strategies in the context of company goals. Interactivity between teams allows participants to share what they've learned through wins and losses as they examine current best practices in services.
In the second module the group looks ahead to what's coming next year or the year after: how to innovate by strategically leveraging services to achieve competitive excellence.
"We work very hard to look at innovating with services, which is different from product innovation," Olsen says. "It often follows a different line of thinking, with more of a focus on jobs to be done."
For example, participants will think about how to provide personal, high touch service in a digital environment where customers are retreating from actual human contact and speaking to a person is usually a sign that something has gone very wrong. What kinds of jobs will be needed to create those services? During this module, participants will hear from leading thinkers from academe and business.
Although the second module is positioned as an advanced program for senior leaders, those who attend the first module, or those with a knowledge of the principles of services management will be well-prepared for the second.
Hear Dr. Olsen talking about the program on this video. Find additional program details and registration here.