– Written by Natalie Both for the Center for Services Leadership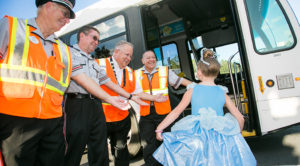 Memorable experiences can have a lasting impact on our perceptions of the brands and companies with which we associate them. A complimentary pint of Guinness served at the highest point in Dublin, with 360-degree panoramic views of the city, is an unforgettable ending to a day at the Guinness Storehouse. Sitting mere inches away from a teppan chef at Benihana preparing your food using elaborate knife tricks makes the phrase "dinner and a show" all the more real. As consumers, when we step into either a brick-and-mortar store or an online website, we care about the layout, how the sales clerks or website engages us, and the overall atmosphere. In the service industry, it is clear that creating positive experiences for customers is important, but the methods behind this can be obscure.
In an article published in the Journal of Service Research, the term "experience-centric services" provides an understanding of a proactive approach to creating "distinctive product and service offerings" through customer experience. An experience occurs when "a customer has any sensation or acquires knowledge from some level of interaction with the elements of a context created by a service provider." Guinness and Benihana are examples in which the customer can interact and partake in the overall experience of a service. This practice encourages customer loyalty by "creating emotional connections through engaging, compelling, and consistent contexts."
Researchers conducted a study to address how to develop and design this type of service successfully, taking into account that experiences cannot be fully controlled by a company, as they are largely based on a customer's personal interpretation. Rather than approaching this idea from the mindset of creating the experience itself, businesses should approach this as creating the conditions that enable the desired experience. These conditions include the central activity and the context in which that occurs: the physical setting, service employees, service delivery process, fellow customers, and back-office support. The more engagement and social interaction the activity involves, the more connection the customer will feel toward the organization and brand.
The study investigated various design principles and their success in achieving the desired outcome of experience-centric services in 17 different organizations. The following were found to be the most conducive: designing customer journeys and touchpoints, which allow for an ongoing and dynamic process of contact between the service organization and customers; appealing sensory design; and designing and managing a dramatic structure of events, where the initial or final moments of a service experience are made to create a lasting impression in the memory of the customer (i.e. Guinness' complimentary pint at the end of a tour).
Companies can begin to improve customer experiences and better engage their customers through these means. Experience-centric services are a proactive way to continuously engage customers, and engagement is what builds the emotional connections that promote repeat purchase and positive word of mouth.
To access the full article, visit the Journal of Service Research at this link. (A fee may apply.)