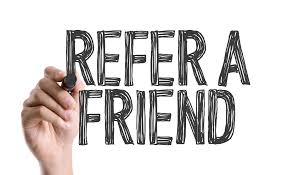 – Written by Jack Lechich for the Center for Services Leadership
Referral reward programs (RRPs) are applied by firms to use existing customers to recommend a firm's service to friends, family and potential new customers. Having become ubiquitous among the service industry, current research on RRPs is far from exhaustive as most studies on them focus on customers' intention to refer instead of their actual referral behavior. RRPs are only effective when a referral is completed by an inductor and a new customer has purchased the service and subsequently become an inductee.
A study recently published in the Journal of Service Management used the retail banking sector as the service setting to examine the referral behavior of participants. The researchers found this setting to be ideal for their study as many banks offer RRPs and some of their hypothesis' demanded more service context (e.g. metaperception, relationship quality).
Collecting data from a leading European bank, researchers studied a sample of 422 people with 273 being inductors (successful RRP participation) and 149 being non-inductors (no participation or unsuccessful RRP participation). The bank supplied customer relationship management (CRM) data which provided information about the actual RRP participation behavior observed. Other information researchers had access to included deposits, relationship duration with the bank, personal income, and number of products held.
They discovered that two variables had a significant effect on successful RRP participation: metaperception and RRP attractiveness. Metaperception refers to "the process by which individuals determine the impressions others might form of them and their behavior". Basically it means how we perceive how others perceive us. RRP attractiveness refers to the perceived attractiveness of the incentive for potential inductors.
Metaperception and RRP attractiveness being found as the significant variables on the success of RRPs may be attested to how both involve the potential inductor weighing his or her options in terms of "Is it worth it?". Is the incentive (i.e. the reward) worth the effort of referring and is the referral worth doing if the inductor does not have the best metaperception of him or herself?
Managerial implications
"The overall findings suggest that managers have to manage at least two important variables: metaperception of the referral and attractiveness of the reward." Potential inductors don't want to lose face with potential inductees so it is key that service firms keep in mind the metaperceptions of their existing customers when executing RRPs. One way that the researchers suggest this can be accomplished is through a shared reward structure. This would provide incentives to both the inductor and inductee.
To help improve the attractiveness of RRPs, they recommend designing RRPs to target close ties and offer incentives that are attractive to the customer but have low face value (e.g. an invitation to an exclusive event).
To read the full article, go to the Journal of Service Management at this link. (A fee may apply.)