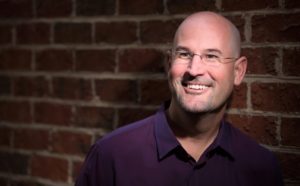 Written by Elizabeth Farquhar for the Center for Services Leadership
In 2019, author and lecturer Stan Phelps logged 155,000 miles on Delta, doing as many as four presentations a week, all in different cities. But in early March, the COVID-19 pandemic shut down conventions and business meetings along with the rest of the world, and Phelps was grounded.
At the time, some hoped the disruption would be relatively short, but after six-plus months of restrictions and uncertainty, fatigue has settled in. This is a critical juncture for businesses, says Phelps. "The way you go about delivering experiences has been radically altered," he says. "I think we are at a reckoning point where companies are going to have to reset and think about the attributes of what they deliver. What's important to customers now and as we go forward?"
Phelps' latest project is an update to his 2018 book. Pink Goldfish: Defy Normal, Exploit Imperfection and Captivate Your Customers 2.0. The update an interesting project, he says, because the concepts stressed in the book are particularly relevant today. Pink Goldfish askes the key question: what is important to customers? The answer to that question is likely different today than seven months ago, but to why, businesses must be close to the voice of the customer.
"Talk to your customers every day – keep your ear to the ground," he says. Front line employees who are responsible for that last two feet of service delivery are your best resource. And, think of your suppliers as "hidden gems," because they offer "a uniquely valuable point of view concerning your competition."
Ironically, the pandemic has made finding opportunities to have these conversations easier, he says. "Seven or eight months ago it was harder to get people on the phone – they were busy or travelling." People have more bandwidth now, because they aren't as schedule-bound. "Grab the opportunity to get in touch by phone or by Zoom," he said. These conversations will help you determine what is most important to customers this minute.
Next is the reset. Evaluate what you are doing and determine where your capabilities align with your customers' greatest needs and goals. Importantly, also uncover those activities that do not. In Pink Goldfish, Phelps encourages companies to differentiate by focusing on what they do well and to let go of the rest – may it's those boiler plate services that are expected or assumed in your industry. "Double or triple down" on your DNA, he says, to discover where you can be most valuable to customers.
Last, he quotes marketing guru Jay Baer, who said "Great marketing is not about hype, it's about helping."
"Find new ways to add value or reduce maintenance for the customer – make it easier to do business with you," he says. "Great companies find the little ways to go above and beyond the transaction mindset to relationship." Your firm should strive for competence, but also warmth.
John Heister Chevrolet is a dealership in Lillington, North Carolina, near Phelps' home. Despite being in a small community "out in the middle of nowhere" the dealership is a large business, Phelps says. The dealer offers online scheduling and pickup/drop off service, but when COVID-19 struck, the company started running radio ads made the following offer: let us know if there's anything we can pick up for you when we drop off your car.
"That's a powerful message he's sending," Phelps says. "It says we realize it's not easy to get out – what else can we do for you?"
Phelps himself has had to make adjustments in his business. When the coronavirus doused the lights on speaker platforms, he realized he had to adjust or pivot. He needed to create a virtual experience that rivals the experience of hearing him in person. Some 70 virtual presentations later he thinks he's getting close to meeting that bar.
— Stan Phelps is an author, keynote speaker and workshop facilitator. He is the author of the Purple Goldfish Book Series.