The idea was a simple one for Professor of Supply Chain Management Eugene Schneller and others seeking the best way to remember a friend, a colleague, an industry leader.
It would be to create a lecture that would serve as an ongoing legacy to a man known for his keen interest in education and a well-known ability to bring together all the players in the supply chain and spark innovation.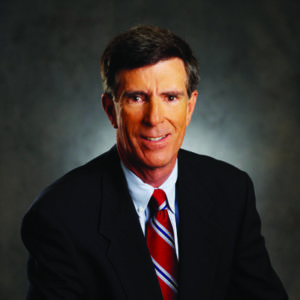 Mark McKenna, the ex-president of group purchasing company Novation (now Vizient) and a founding member of the Health Sector Supply Chain Research Consortium at Arizona State University, died after a lengthy bout with cancer in October 2011. He was 62.
But his impact has lingered at the W. P. Carey School of Business, where the seven-year-old McKenna Lecture has assumed its place in the ever-changing health care industry. Event organizers are actively looking to secure the dollars needed to make the program sustainable long term.
"Mark was always seeking to bring new thinking to supply chain people," says Schneller, in a recent interview at his university office in Tempe. "Consortium members first wanted to honor his legacy and help increase the visibility of health care with a focus on supply chain. Secondly, we wanted to bring in thought leaders to encourage people to begin thinking outside the box."
The making of the Mark McKenna Lecture
The lecture would fit with the overall goal of moving individuals in the supply chain industry from being strictly transactional when operating in the field to becoming more strategic thinkers, Schneller explains.
"We thought this would be sort of a brick in that wall to stimulate the thinking for people who came every year – distributors, purchasing organizations, and suppliers," he says.
Speakers would be industry thought leaders. Well-known. Innovators. Not just when it came to the health care supply chain. But on broader policy issues shaping the industry.
The event would grow into more than a single lecture to include other events, to incorporate a small group setting student component aimed at offering knowledge and exposing them to leadership styles and opportunities in the field.
Digital medicine with Dr. Eric Topol
On Wednesday, March 22, 2017, pioneering cardiologist Dr. Eric Topol came to the McKenna Lecture in the Marston Exploration Theater (main, top photo by Anya Magnuson/ASU) toting a technology-heavy message with him as he offered his thoughts about what patient care would look like in the not-so-far-away future.
Think about a more virtual kind of medicine, where hospitals may have few regular beds, televisits helping to replace the in-person appointment, and patients having the ability to examine themselves and use technology for the results.
Topol, a genomics professor at The Scripps Research Institute and director of the Scripps Translational Science Institute, says personalized medicine was growing through devices that can "track any organ, any system in the body with sensors, most of them wearable."
He added that the results could be delivered to a person's smartphone, with some helpful devices already in the marketplace ready to go.
Health care reform with doctors Mark McClellan and Brent James
In 2016, Dr. Mark McClellan, director of the Duke-Robert J. Margolis MD Center for Health Policy, took to the McKenna Lecture stage to talk about the all-important need for the industry to increase its focus on the whole person to deliver more health care value now and in the future.
"We are in the midst of this shift from focusing our policies on services and treatments to focusing on patients," said McClellan, adding that integrating health care with community-based support can help improve outcomes and cut costs.
Dr. Brent James, chief quality officer and executive director of the Intermountain Institute for Health Leadership, used the 2015 McKenna Lecture to drive home the point that the way to improve health care was through better execution.
"We could get as much benefit as the next 30 years of biomedical research if we could just execute on the solutions we have today," said James, underscoring the importance of evidence-based management.
A high-performance health system with Dr. David Blumenthal
In the 2014 lecture, Dr. David Blumenthal spoke of a fork in the road for the United States when it came to spending precious dollars on health care.
Blumenthal, then the Commonwealth Fund president and the ex-national coordinator for Health Information Technology for the U.S. Health and Human Services department, said the nation could choose a route laden with fewer benefits and less affordability for users or a pathway that works better and was more efficient.
Blumenthal, regarded as the father of electronic medical records, said decades of inefficiency has cost the country some $15 trillion – enough to provide free, four-year college tuition for 175 million people.
He said the time was now for policymakers in the public and private sector to create high-performing health systems.
Consumer-driven health care with Regina Herzlinger and Gail Wilensky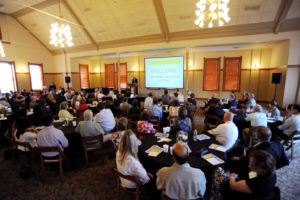 Regina Herzlinger, a Harvard Business School professor and long-time advocate of consumer-driven health care, addressed the 2013 lecture audience as the nation was in the throes of implementing one of the most comprehensive health care policies ever passed, the Affordable Care Act.
Her message? Policy simply cannot fix the broken health care system. It takes consumer-focused innovation to repair it. And make sure politicians, providers, insurers, and others with a vested interest to maintain the status quo get out of the way, she said.
So-called Obamacare also was on the mind of former Medicare administrator Gail Wilensky when she spoke about the critical issues left unresolved by the massive health care makeover in 2012. Topping that list were unsustainable spending growth, inconsistent patient safety measures, and inconsistent adoption of clinically appropriate strategies said Wilensky, who continues her career as a senior fellow at the international health foundation, Project Hope.
Top 10 challenges in execution with Quint Studer
Kicking off the lectures in 2011 was Quint Studer, chief executive of the Studer Group, talking about why change was so challenging and exploring the conflict between doctors and management in achieving it.
"What I hear from people in the community is that the lectures have inspired them to think more broadly about health care and the business of health care, about the whole value chain," Schneller says.
The lecture series was spawned with $25,000 from McKenna's wife, Mary Sue, and was quickly bolstered by others who Schneller says liked him and "were happy to throw dollars on the table at this worthy cause."
Picking a speaker begins with the hot topics of the day, narrowed to what might work, and which A-list industry expert would be best. "The goal is that we want to make the industry better than it is and something that people can be proud of," says Jo Klein, who recently stepped down as co-chairwoman of the McKenna Lecture Advisory Committee. Klein, a former vice president of Novation, says the attendees represent a broad range of suppliers and health care providers to students.
She said she never imagined that the lectures would continue for this long and that the event would become so well-known in the industry.
Fundraising for the future of the McKenna lecture
Karen Conway, another advisory committee member, and current co-chair said the quest to maintain a program free for all where the quality of the speakers and the information delivered is top-notch means that the group is in a constant fund-raising mode.
"Fundraising is a fact of life," says Conway, an executive director at GHX. "We want to make this self-sustaining to be able to deliver the best thinking in the field to as many people as possible at all stages of their careers."
Conway, who has a master's of science degree in the Science of Healthcare Delivery from ASU, said a healthy bank balance would allow the group to focus slowly on nurturing continued growth. A push is on to fund a permanent endowment for the McKenna lecture.
Schneller says immediate plans include bringing to campus former Utah Governor Mike Leavitt, who served as administrator of the U.S. Environmental Protection Agency and was U.S. Secretary of Health and Human Services. He has been scheduled to give a lecture in March 2018.
Longer range plans could see the annual event make a stop in Washington, D.C., for a reunion of sorts featuring several former speakers for a panel discussion, Schneller says. The panelists could assess their remarks from the past and offer a clear-eyed look into the future, he adds.