Do Sustainability and Resilience Go Hand in Hand? The Case of Pennsylvania Dairy Farmers
Veronica Villena
Associate Professor, Supply Chain Management, W. P. Carey School of Business, Arizona State University
The COVID-19 pandemic has created major supply chain disruptions, forcing managers to focus their attention on short-term survival. A study of Pennsylvania dairy farmers suggests that now is the time to reinforce sustainability investments for dairy supply chains to better navigate future disruptions.
Veronica Villena, an associate professor of supply chain management at Arizona State University, conducted the study. She presented her findings to KNUST faculty and graduate students on June 16, 2022, as part of CARISCA's distinguished lecture series.
Villena conducted two empirical studies. A qualitative study revealed that dairy farms that pursue short- and long-term goals and manage diverse stakeholder tradeoffs are well equipped to be more resilient. The second, a quantitative study, tested the propositions emerging from the first study in a large-scale survey involving 588 Pennsylvania dairy farms.
Both studies suggested that farms that have invested in environmental, labor and animal welfare practices are more likely to continue their operations and implement an emergency plan that allows them to run safe operations. Interestingly, the researchers found that large and women-operated farms benefited more from these investments than small farms and those operated by men.
Villena said the study contributes to three research streams. It contributes to the sustainability-resilience research literature by showing how investing in long-term sustainability practices builds resilience—perhaps one of the most important traits for dairy farms today. It also contributes to agricultural research by highlighting two prominent, albeit vulnerable, groups: small-farm operators and women farmers.
Finally, the study contributes to operations management by responding to an important call to investigate the factors contributing to small- and medium-sized enterprises' resilience and the role of women in a male-dominated industry. The Pennsylvania dairy farm studies also provide implications for dairy farmers, cooperatives, policymakers and support centers.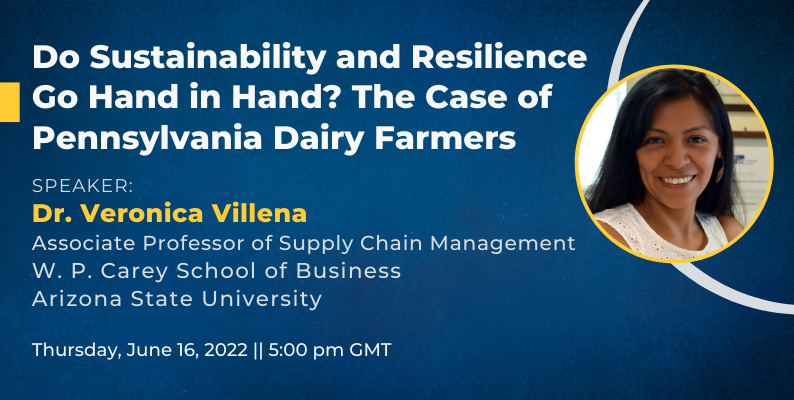 About the speaker
Veronica Villena's research focuses on how companies engage their global supplier network to achieve economic, environmental and social outcomes. She has worked with leading sustainability companies in the automotive, electronics, consumer product, pharmaceutical, fashion and food sectors on how they can diffuse their environmental and labor practices to their first-, second- and third-tier suppliers. Her research explores the challenges companies face in cascading their environmental and labor requirements to these upstream suppliers while informing the reasons why suppliers do not fulfill such requirements. She has done extensive grounded research in several emerging/developing countries and worked with industry organizations and NGOs to better understand the environmental and labor conditions in supplier factories.
She won the 2019 Jack Meredith Best Paper award at the Journal of Operations Management and the Chan Hahn Best Paper Award of the Academy of Management (OSCM division) in 2016 and 2020. Her work has been published in a variety of prestigious journals, including Journal of Operations Management, Production and Operations Management, Journal of Management, Journal of Supply Chain Management, and Decision Sciences. She also publishes in managerial outlets such as Harvard Business Review and Supply Chain Management Review. She currently serves as an associate editor for the Journal of Operations Management and a senior editor for Production and Operations Management. Access Villena's research papers at https://www.researchgate.net/profile/Veronica_Villena.
Before joining W. P. Carey, professor Villena was an assistant professor of supply chain management at the Pennsylvania State University. She received her doctorate in business and MBA from IE Business School (Spain) and her bachelor's degree in industrial engineering from Universidad Nacional de Ingenieria (Peru).