Healthcare professionals gather with CARISCA faculty in Accra to discuss improvements for Ghana's health supply chains.
Collaborating for Change
The Center for Applied Research and Innovation in Supply Chain – Africa (CARISCA) aims to produce locally relevant research that significantly improves the efficiency and effectiveness of health and agricultural supply chains in Ghana and across Africa.
Stakeholder engagement is a crucial activity for the CARISCA. In addition to biannual Supply Chain Action Network meetings, CARISCA will host smaller meetings with stakeholders in a single sector for in-depth discussions. These convenings are an opportunity for CARISCA researchers to meet with professionals working in the field for in-depth conversations about day-to-day challenges. These interactions ensure that our research is locally relevant and reflects and addresses pressing issues. These stakeholder meetings also facilitate networking and information sharing among stakeholders.
These meetings with stakeholders do not end when the session is over. CARISCA works to understand the needs of stakeholders and provide solutions that can best make a change.
"It is not about talking; it is about action. CARISCA, in its first year, has held several stakeholder meetings. The findings from these meetings have been considered and are currently being addressed," said Nathaniel Boso, CARISCA director at KNUST.
In February 2022, CARISCA hosted its first affinity group meeting with private healthcare supply chain professionals to discuss "Strengthening Health Supply Chains in Ghana: Challenges and Opportunities for Drugs in the Top Communicable and Non-Communicable Diseases."
"One way we can bridge the gap between academia and industry is to engage our professionals, especially in the private sector. Not only do these types of meetings bridge the gap, but they provide practical insights into what goes on in the field," said John Serbe Marfo, CARISCA's Senior Technical Advisor for healthcare supply chain innovation and technology.
Participants met for six hours, sharing their experiences and views of Ghana's health supply chains and how to strengthen them.
"It was a great opportunity to share views and ideas alongside other members of different levels of the industry; it was a very interactive and helpful session," said one participant from the pharmaceutical industry.
Locally Relevant Research in Action: Next Steps
Dr. Priscilla Mante, senior lecturer in the Department of Pharmacology at KNUST and one of CARISCA's research faculty, is leading the creation of an industry report that will highlight the findings and next steps for Ghana's healthcare supply chains.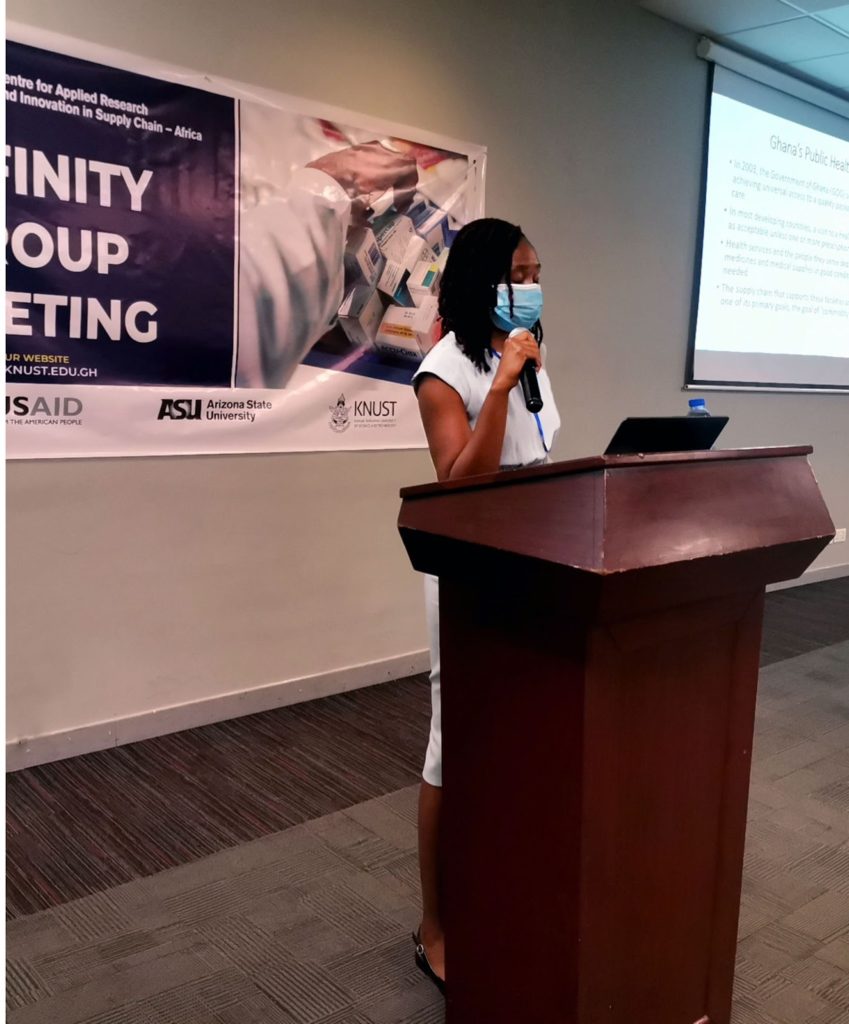 Mante says that "such engagements are opportunities for developing and supporting a well-managed and effectively regulated commercial sector, hopefully leading to increased overall organizational effectiveness of the supply chain and improvement in the country's healthcare system."
Please subscribe to our mailing list for updates on CARISCA's activities and research.